Over the years, the bond between Serena Williams and Alexis Ohanian has grown by leaps and bounds. Along with their daughter, Olympia, they have become one of the cutest families you could ever meet. They are very active on social networks and often share wonderful moments of their daily life on platforms like Instagram and Twitter.
ADVERTISING
The article continues below this ad
Plus, Serena and Alexis had a wonderful storyline from when they first met. They met in Italy in May 2015 when Serena was playing at the Italian Open. Thereafter, the friendship between them grew and the rest is history! Recently, the 23-time Grand Slam champion opened up about a hilarious incident from their first meeting.
ADVERTISING
The article continues below this ad
When Alexis Ohanian got into Serena Williams' car
During "The Drew Barrymore Show," the American legend opened up about an incident that happened when he first met Alexis. She says, "I win the game and I go home and this guy gets in the car and he's like six-five and he's big. And I'm like, why is this guy getting in the car with us? So I look at my agent and I'm like, "Jill, what's this guy doing? Why do I have security? You have to tell me if I have any stalkers. Because you know how stalkers are.
DIVE DEEPER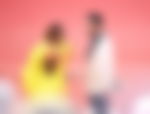 Additionally, she added, "I'm like, "You have to tell me when I have stalkers because it's not fair. I need to know to be ready. If something happens, I want to be ready. And she's like, "No, no, no, it's Alexis." Because he's really big. So I was like, is it six-five? – It's five past six. So I thought it was security. I am a nightmare.
ADVERTISING
The article continues below this ad
Serena receives a gift from Gatorade
Earlier this week, Gatorade sent a gift for Serena. In the video shared by the brand on its official Instagram handle, Serena can be seen unwrapping the gift. She found a "cool" jacket with the letter "S" embedded in it.
ADVERTISING
The article continues below this ad
WATCH THIS STORY: Nick Kyrgios' out-of-control rant against the chair umpire at the 2022 Miami Open
The American legend has a partnership with Gatorade and has been featured in numerous advertisements for the brand. Recently, Gatorade also honored Serena after her retirement with an ad for Beyonce.