President Volodymyr Zelenskyy paid another visit to troops on the front line of Ukraine's war against Russia, praising soldiers in forward positions as brave and hardworking, vowing the country will prevail.
Key points:
President Volodymyr Zelenskyy presented medals and posed for selfies with troops in the southern region of Mykolaiv

Governor of Luhansk says Russia is sending large numbers of reserve troops to Sievierodonetsk from other combat zones

Ukrainian authorities reported the night shelling of several locations in the eastern regions of Lugansk and Kharkiv, and further west in Poltava and Dnipropetrovsk.
A video posted on Mr Zelenskyy's official Telegram account on Saturday showed the president dressed in his khaki t-shirt, handing out medals and posing for selfies with troops in what appeared to be an underground shelter in the southern Mykolaiv region.
The president's office did not say when he made his last trip to see the troops.
Mr. Zelenskyy has remained mainly in Kyiv since Russia invaded the country on February 24.
However, in recent weeks he has made unannounced visits to the northeastern city of Kharkiv, where heavy fighting had previously taken place, and to two eastern towns close to where the fighting is taking place.
Fighting is also taking place east and south of the Mykolaiv region in southern Ukraine.
Visit a Morale Boost in Frontline Regions
Mr Zelenskyy's office said the president also visited the regional capital, Mykolaiv, and inspected its destroyed administration building, where 37 people were killed in late March when a missile ripped through the building.
Russian forces reached the outskirts of Mykolaiv in early March but were repelled.
Zelenskyy also visited a hospital in Mykolaiv and presented honors for bravery to Mayor Oleksandr Senkevych and Governor Vitaliy Kim for their work during the four-month Russian invasion, his office said in separate statements.
His office stressed the strategic importance of the territory, which borders the Russian-occupied Kherson region.
"The Mykolaiv region is a bridgehead for the liberation of the Kherson region, which is a goal for all of us," Chief of Staff Andriy Yermak said on Telegram.
Mr Zelenskyy's office later said he also visited national guard positions in the Odessa region, where he thanked the troops for their service, saying: "As long as you live, there has a strong Ukrainian wall that protects our country".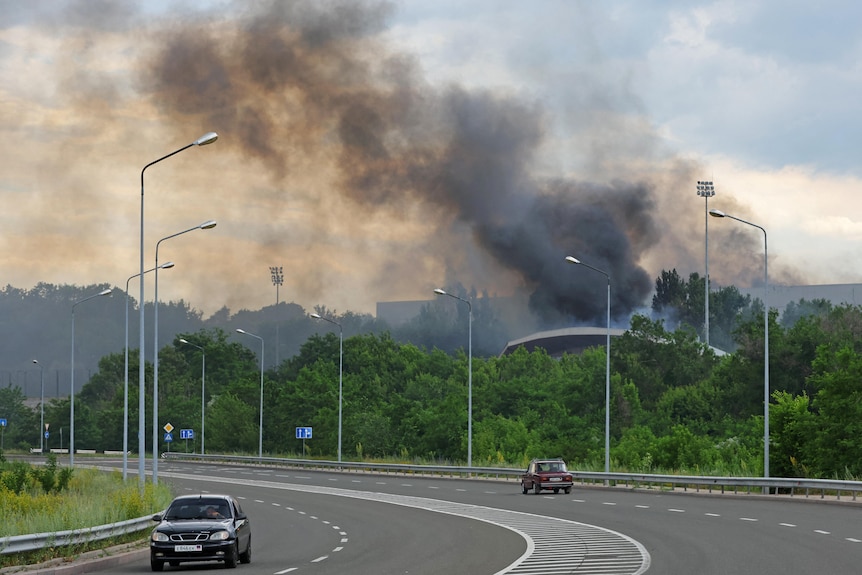 Sievierodonetsk expects an influx of Russian reservists
On the battlefields, the industrial city of Sievierodonetsk – prime target of Moscow's offensive to take full control of the eastern Luhansk region – came under heavy artillery and rocket fire as Russian forces were attacking areas outside the city, the Ukrainian military said on Saturday.
The attack on towns just south of Sievierodonetsk was repelled by Ukrainian forces, Lugansk Governor Serhiy Gaidai said on the Telegram messaging app.
He also said Russia was sending large numbers of reserve troops to Sievierodonetsk from other combat zones in an attempt to take full control of the frontline city.
He said Russian forces already controlled most but not all of Sievierodonetsk.
Ukrainian authorities also reported nightly shelling of locations further west in Poltava and Dnipropetrovsk and on Saturday said three Russian missiles had destroyed a fuel storage depot in the town of Novomoskovsk, sending three people to the hospital.
Earlier Saturday, Russian rockets rained down on a suburb of Kharkiv, Ukraine's second-largest city, hitting a municipal building and starting a fire in an apartment building, but causing no casualties, regional governor Oleh Synehubov said.
"A large-scale fire broke out, rescuers located the fire," Synehubov wrote on the Telegram messaging app, adding that other buildings were also damaged.
He said several Russian missiles hit a gas plant in Izyum district, about 120 kilometers southeast of Kharkiv, on Saturday.
Moscow continues to say it is engaged in a "special military operation" to disarm its neighbor.
Ukraine and its allies say instead that Moscow has launched an unprovoked war of aggression, killing thousands of civilians and razing cities.
Reuters
Loading