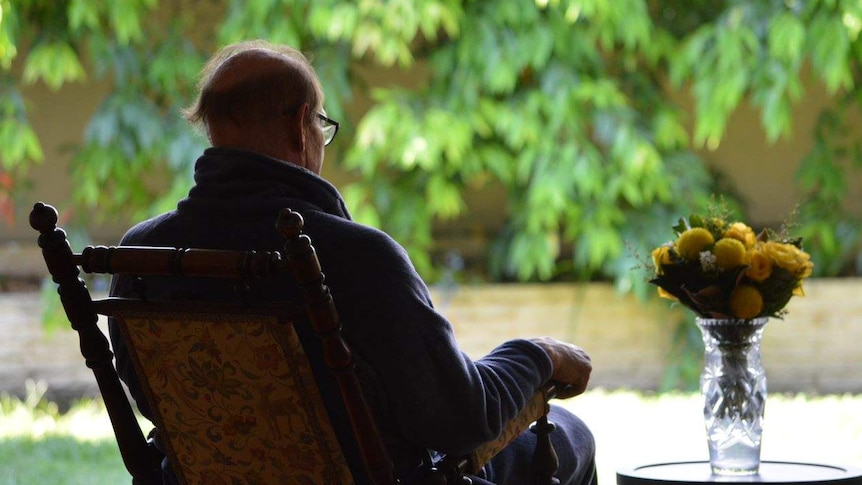 Alone, confused, in tears and confined to her bedroom at her Brisbane nursing home, this is how a visually impaired 90-year-old grandmother spent Christmas, and she wasn't the only one.
Key points:
The closures have left some parents and residents angry at what they say are confusing and harsh interpretations of the COVID-19 rules
Queensland's Chief Medical Officer of Health on Friday dismissed any concerns over elder care issues resulting from the increase in the number of cases
The ABC has confirmed that more than 16 elderly care facilities in South East Queensland are in some form of lockdown
Across Queensland, hundreds of elderly residents have been or are facing lockdowns as COVID-19 rises statewide.
At least 16 homes in South East Queensland have been closed in the past two weeks.
The closures, many of which began days before Christmas, have left some parents and residents angry at what they say are muddled and harsh interpretations of the COVID-19 rules by senior care homes.
The 90-year-old grandmother's daughter, who asked not to be identified, said: "There has to be some sort of thinking to relax the lockdown rules for the elderly and make sure they can receive visitors. "
The woman said she was alerted by an email at 10 p.m. on Christmas Eve that the establishment, John Wesley Gardens in Geebung on the north side of Brisbane was on lockdown and her mother could not to leave.
"She is 90 years old and had never been alone for Christmas before. Mom was looking forward to our family reunion… instead, she spent the day alone in her bedroom crying," the woman said.
"The last clear thing my dad said to me before he died was to take care of mum. I feel like I failed to do it. Maybe it was his last Christmas and it was taken away from him and his family. "
The woman questioned John Wesley Gardens' directive that her mother could not have a single visitor if precautions were taken.
She said the home had indicated it was acting on instructions from Queensland Health.
But a spokesperson for the Wesley Mission said John Wesley Gardens was only following the directive from the Queensland Health public health unit for 'red' or strict outbreak guidelines.
This meant a lockdown and the only authorized visitors would be in an "end of life" scenario, the spokesperson said.
"As soon as they are told something different, they can reduce it to an amber status, then will allow under COTA (Council on Aging) rules – one visitor for an hour a day. But they should be in PPE. complete, "he added. she said.
"It's an evolving situation."
Queensland Chief Medical Officer of Health John Gerrard on Friday dismissed any concerns about elder care issues resulting from the rising number of cases among residents and staff.
Asked at a press conference about the COVID-19 situation in the state's elderly care facilities, he said he "was not aware of any major outbreaks because we have rates vaccination rates so high in nursing homes for the elderly ".
"There could be. I'm not specifically aware of it," he said.
Dr Gerrard also said Queensland Health had not given any specific advice to senior care facilities regarding stopping visitors.
A spokesperson for Queensland Health said last night: 'At the moment there is no statewide mandate in the form of a public health directive restricting all visitors to facilities care for the elderly.
"Our public health units continue to provide appropriate health advice to senior care facilities in managing clusters of COVID-19 cases.
"As a precaution, this may include recommending restricting visitors to avoid further spread within the facility and into the community."
The spokesperson said the chief health officer was very confident in the local management of cases and clusters by public health units.
She said COVID-19 was prevalent in Queensland and it inevitably affected healthcare and elderly care facilities.
"It is important to note that vaccination is mandatory for elderly care workers and that the use of elderly care residents is high," she said.
"As a result, no major epidemic with a high death rate like that seen in Victoria last year has been reported in Queensland to date."
Emerging clusters in care facilities for the elderly, more expected
Late Friday, the ABC confirmed that more than 16 elderly care facilities just in south-eastern Queensland were under some form of lockdown due to COVID-19 infections among staff or residents.
Several of the outbreaks were already grappling with clusters of infections among residents, and more are expected in the coming weeks.
Anglicare said three residents and six staff at its St Martins and Symes Grove facilities in Taigum in north Brisbane tested positive.
The three residents who were all vaccinated had been placed in hospital but were doing well, a spokesperson said.
On Friday evening, a Regis Aged Care facility in Kuluin on the Sunshine Coast confirmed that eight residents and five staff had tested positive.
A spokesperson said the team followed strict health advice from public health units at state and federal levels to keep homes safe.
At the Trinder Park house run by Lutheran Services in Woodridge in south Brisbane, two residents and 10 staff had tested positive.
Communication on the state of COVID-19 closures of senior care facilities has varied, with some choosing to place notices on their websites and others notifying loved ones via email.
Some family members and staff raised concerns about the information provided by some facilities.
A staff member at a home run by Lutheran Services in Trinder Park expressed concern about staff issues due to communication issues.
He said his co-workers were "too scared" to come to work because management had not contacted them.
But Lutheran Services CEO Nick Ryan said on Friday they kept open and frequent communication with their residents, staff and families to make sure they had the most recent information.
Earlier, Ryan said in a statement, "Staffing is a challenge in this situation, as is the case with all residential senior care services with COVID-19 right now.
"To meet this challenge, we have implemented our COVID-19 workforce plan. "
Constant communication is vital in the face of COVID: researcher
Briony Dow, a leading senior care researcher who recently completed a study on how senior care handled the pandemic in Victoria, stressed the importance of constant communication for senior care during the pandemic.
"Sometimes that actually means affecting a person whose job it is to communicate with residents, with family, with staff because it's constantly changing and we keep having an ever-changing situation," said Professor Dow, director of the National Research Institute on Aging.
Some residents have resigned themselves to confinements, recognizing the risks without them.
Jodie Cain's father Graham has been locked in a nursing home in Brisbane's eastern suburbs for eight days so far.
She said it was her first Christmas without his wife, but he understands.
"We definitely missed him on Christmas Day," Ms. Cain said.
"He was upset… but understands it was for everyone's protection."
Loading form …